Rio Tinto plans to submit a mining plan of operations to the US Forest Service early next week regarding their dream of building a mine at Oak Flat.  Curiously, Rio Tinto has stated that the plan will not be available to the public until next year!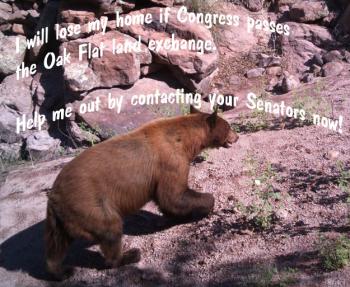 Rio Tinto has gone to great lengths to avoid filing a plan since 2004, opting instead to cajole the US Congress to pass a bill giving them Oak Flat without detailing how destructive a mine at Oak Flat would be to sacred, ecologically critical, and recreationally important lands. 
The submitting of the plan is timed to jump start HR 687 in the US House of Representatives, which was stalled in October when the bill was poised for a vote on the House floor but was pulled by the House leadership.  The bill's sponsors in the House were worried that the Lujan amendment (which forbids the Secretary of Agriculture from giving any sacred lands at Oak Flat to Rio Tinto) would pass, effectively scuttling the land exchange itself. The US Senate has scheduled a hearing on the Senate version of the bill, S 339 for November 20.